Experience Life As YOU Again
Improve Your Mental Health With The Global Leader In Bespoke Remote Neurofeedback
Improve Your Mental Health With Remote Neurofeedback
We provide you with a Myneurva Remote Brain Station which allows you to take the initial EEG (the initial scan of the brain) and receive a Brain Electrical Analysis & Mapping (BEAM) report with conclusions based on Myneurva's trained professionals. We provide a remote solution of the equipment, experts, and analysis for each application. To learn more about neurofeedback please read the article; What Is Neurofeedback or contact Myneurva today!
Can I Do Neurofeedback Remotely?
Yes you can do remote neurofeedback at home. This is very convenient and allows you to be completely comfortable and relaxed for your neurofeedback training sessions in the privacy of your own home.
We send you a Myneurva Brain Station and operate it for you remotely. Remote neurofeedback is really this simple.
You can benefit from Myneurva's high quality Brain Mapping and Computer Assisted Cognitive Rehabilitation in the privacy of your own home.
Please read the article to learn more about neurofeedback pricing today!
What Does Neurofeedback Treat?
Neurofeedback does not treat or cure any disorder. Neurofeedback can allow for improved functioning of persons who report maladaptive symptoms and are diagnosed with disorders such as ADD/ADHD, Addictive disorders, Anxiety, Autism & Asperger's, Chronic Fatigue, Depression, Dissociative Disorders, Epilepsy, Obsessive Compulsive Disorder, Post Traumatic Stress Disorder, Headaches, Sleep Disorders, Traumatic Brain Injury, encephalopathy, Neuro-Lyme's Disease, Chronic Fatigue Syndrome, multiple sclerosis, Parkinson's, Tinnitus, Migraine, "Chemo-brain", Alcoholism and additional mental disorders.
Neurofeedback is an emerging tool for reducing the symptoms of PTSD. Neurofeedback can reduce anxiety, improve sleep, reduce flashbacks, improve memory, concentration, and reduce substance abuse behaviours.
Click to learn more about Neurofeedback for PTSD.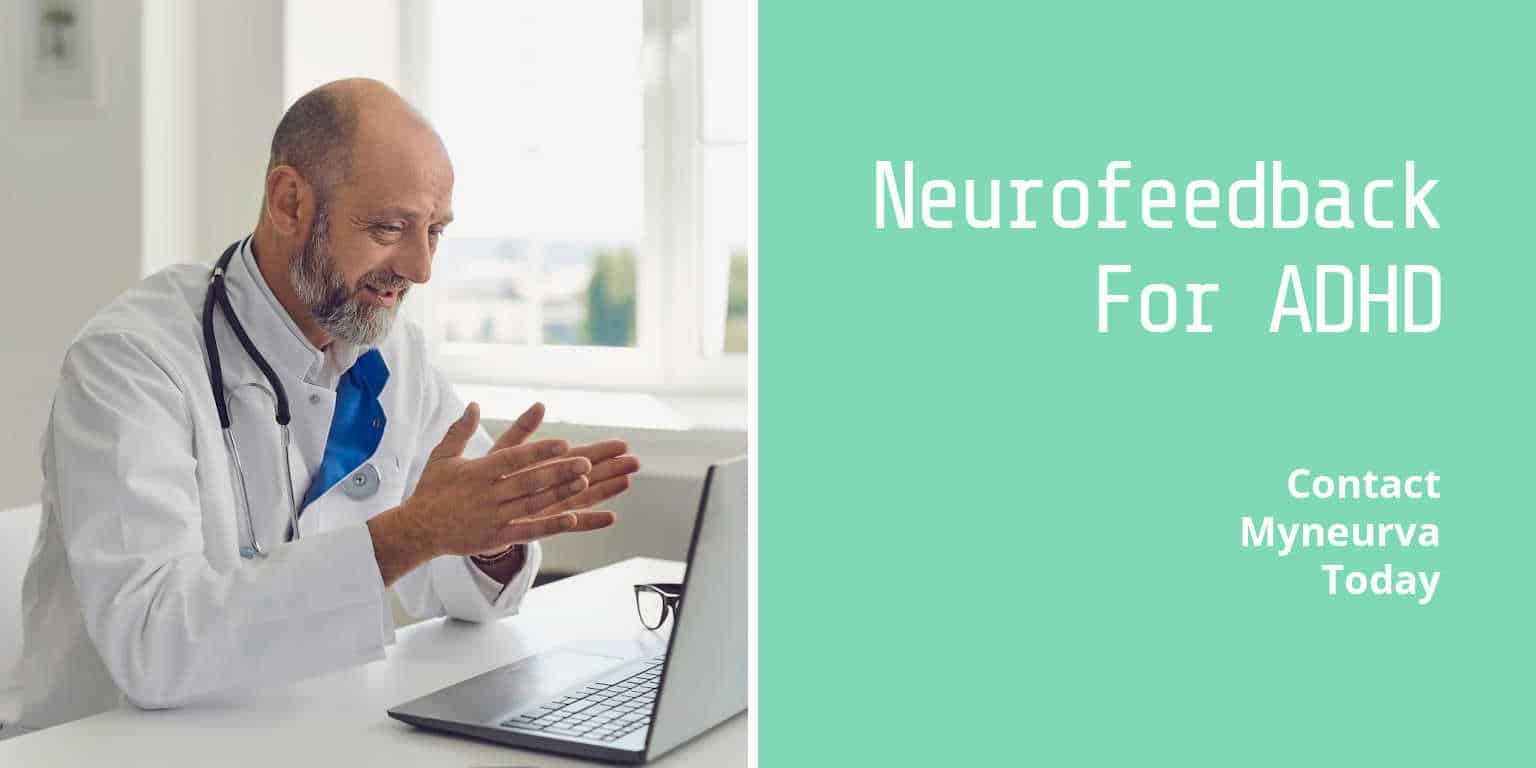 Neurofeedback can help with symptoms of ADHD. Neurofeedback can assist a multimodal treatment plan designed around reducing the behaviours related to the core ADHD symptoms.
Click to learn more about Neurofeedback for ADHD.
Neurofeedback can work for anxiety by retraining your brain to learn how to relax again. Neurofeedback is a non-invasive, alternative therapy for anxiety that helps reduce feelings of dread and foreboding.
Click to learn more about Neurofeedback for anxiety
Myneurva Is The Global Leader In Neurofeedback Artificial Intelligence
Expertise, Artificial Intelligence, and Medical Professionals
Detailed Analysis Reporting
Utilizing extensive Neurofeedback expertise we detect areas and networks of the brain affected by possible Traumatic Brain Injury (TBI), Post Traumatic Stress Disorder (PTSD), Anxiety Disorders, ADHD, and many other neurological afflictions causing numerous conditions in the clients.
At Myneurva, we are able to interpret the data into an extensive report meeting client and doctor needs.
Artificial Intelligence
ANNA has been created and continually learning from the experience of Dr. Starr's, theory, and analysis of tens of thousands of brains.
Providing professional level QEEG analysis, reports, maps, databases, create neuro-indexes, detailed training protocols and neurofeedback therapy to MYNEURVA Remote Hubs, Remote Individuals, Performance Clinics, Medical Practices, Private Companies, Clinical Studies, Universities and much more.
Experts in Clinical Neuroscience
Founder Dr. Starr has been an adult child and adolescent psychiatrist with thirty years of experience in the field of brain computer interface technology. He has a traditional science education and has served as Medical Director for several large institutions. He brings his knowledge of science, medicine and psychiatry to improve the analysis and treatment of brain disorders, and bring them to the forefront of medical treatments. He leads an experienced team in the neuroscience world.
What People Are Saying
Hear from doctors, business leaders, customers about Myneurva remote Neurofeedback services and solutions.
We love working with the team at MYNEURVA. You are knowledgeable and professional.
You are revolutionizing a revolutionary field in Remote Neurofeedback and Artifical Intelligence
Dr. Starr's efforts in EEG are truly groundbreaking. Thank you for contribution.
Your EEG recording services are top in the industry. We trust Myneurva as our data acquisition source
Hours
M-F: 7am - 5pm EST
S-S: Closed