Neurofeedback In The Clinic
Transforming Brain Analysis and Treatment. Measure, Map And Augment Your Brain.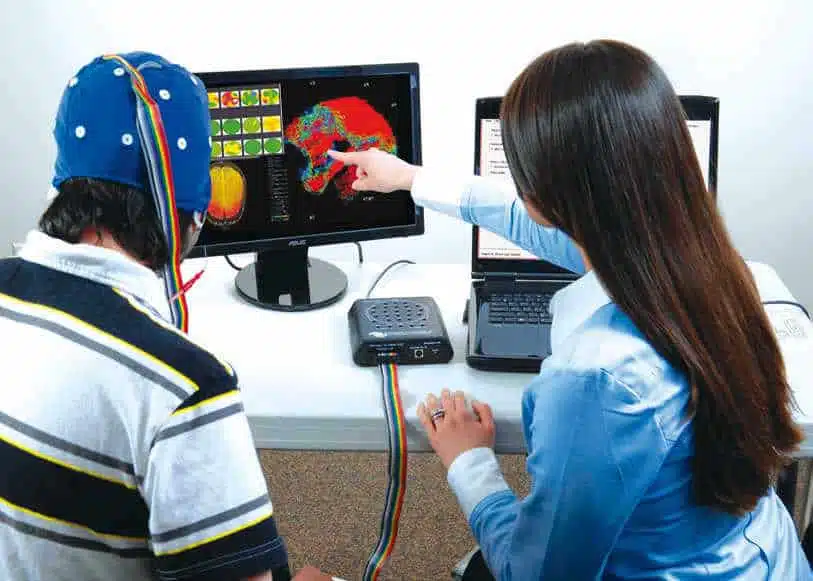 QEEG: Without a map, how do we know which direction to go?
QEEG is also known as BEAM (Brain Electrical Analysis and Mapping). This is a type of scan that uses the brain's electrical activity to construct an image showing areas of dysregulated activity, and areas that are either over or under working.
Using sophisticated statistical software, and artificial intelligence we can not only map the brain accurately, we can also infer potential symptoms.
Psychiatry is the only profession that does not directly examine the organ being treated. Now, we can.
Contact us for more information, locations near you, or to add our technology to your existing Practice.
You can learn more by reading the article What Is Neurofeedback today!
Who Does Myneurva Work For?
MYNEURVA works for any medical or health practice already getting EEG or QEEG such as MDs, Primary Care Settings, Sleep Centers, Pain Clinics, Neurology Practice, and Psychiatrists.
How Does This Benefit Each Client?
We live in an information age where clientss are plugged into their health data. Many are aware of recent advances in Neuroscience during the decade of The Brain Initiative and want to know more about the organ between their ears. It is not a black box anymore.
There are thousands of published articles on the use of EEG in functional brain mapping, and BEAM has been accepted in multiple legal jurisdictions as valid information in supporting the analysis of head injury.
Clientss gain useful information about strengths and weakness, potential for specific Neuropsychiatric disorders, overall comparisons with expected normal functioning for age.
The BEAM gives actionable information in a timely fashion and assists with client analysis and management.
Myneurva Is Your Clinical Partner In Neurofeedback Solutions
For existing Practices, Mynuerva offers the ease of having access to a Clinical Neuroscientist and an entire team of Brain Training specialists, helping you to accurately recommend a non-invasive plan that doesn't just mask symptoms.
What Can Myneurva Assist With Identifying?
Mood Disorders
Identification and Differentiation of Dementia
Quantifying Cerebral Vascular Events and documenting over time
Determining drug or supplement regimen efficacy
Traumatic Brain Injury using multiple analyses.
Developmental Disorders
Attention and Concentration Issues
Learning Disabilities
Presence and Degree of Pain (through third-party analysis)
Improved clinical decision-making opportunities